Our Story
Faith Community United Methodist continues a long tradition of faith that began with the first Methodist meetings in Xenia early in the 19th century. When the Methodists and the Evangelical United Brethren united in 1968 in Dallas, Texas, Xenia's First Church and Trinity Church became United Methodist churches. Two years later, these historic congregations joined together to form "Faith Community," June 12, 1970. In September, 1972, the new church building at 100 Country Club Dr. was constructed to the Glory of God. The congregation continues the tradition of Methodism born here almost two centuries ago.
Whether you're in search of hope, meaning or the simple assurance that there is something more, you're not alone. Let's work it out together.
Worship Times
Sunday Mornings:
9:00a – Sunday School
10:30a – Worship Service
Dress in whatever makes you feel comfortable, sit wherever you want and enjoy a free cup of coffee. We want God to meet you right where you are.
Kids and students are welcome to come and grow in their relationship with Jesus during all worship celebrations.
Worship typically lasts an hour and includes a meaningful message. You'll also discover ways to grow in your faith to change the world.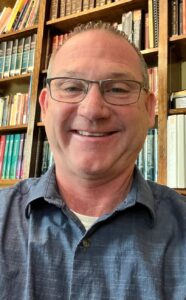 Pastor Jeff Bandy, Lead Pastor
Pastor Jeff was ordained Full Elder in the West Ohio Conference in 2018 after a long journey to become a pastor which began in 2005. As part of the ordination process, he received his Masters of Divinity from the Ashland Theological Seminary in 2012. Before arriving here at Faith Community, Pastor Jeff served in two other appointments. He most recently served at Fayette UMC and prior to that at the Caring Points Churches in Deshler, Leipsic, and the rural area around them, all located in Northwest Ohio. Before working as a full-time pastor, he earned an Electrical Engineering degree from The Ohio University in 1989 and had worked as a software engineer for 25 years in various different applications of software development and IT. Jeff completed his career in IT at AEP in Columbus in 2014, when he began his full-time ministry position as a pastor.
Pastor Jeff is married to Suzanne and they have been married since 1991. They have served together in various ministry capacities over the years. For them, ministry is definitely a partnership, each sharing their own unique gifts and empowering others to do the same. In 2020, Suzanne started her own leadership coaching business, Rubberband Creations, LLC to help individuals and groups to better understand how they can become healthy leaders and teams using the Enneagram and other tools. They have two grown children. Their son, Kale and his wife Emily live in the Cleveland area and their daughter, Kara and her husband Angel live in the Cincinnati area.
Pastor Jeff is originally from Enon, graduated from Greenon High School, and has several family members in the Springfield and Dayton area. When they were first married, they resided in Fairborn near WPAFB where he began his engineering career. Suzanne is familiar with the area as she worked for the Greene County Convention & Visitors Bureau before they left the area in 1992. Being in Xenia is somewhat of a homecoming for them.
Outside of the ministry, you might see both Pastor Jeff and Suzanne out walking or running around town. Pastor Jeff also enjoys participating in sports when he can, playing golf, basketball, and pickleball and doing other activities such as kayaking and hiking. He is a big sports fan enjoying most sports and following the Ohio State Buckeyes and the Cincinnati professional sport teams closely.